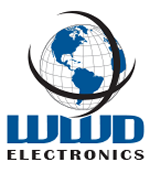 With over 25 years of experience in the electronics industry, WWD ELECTRONICS answers the constant demand for innovation of our customers, offering a complete product portfolio: Passive components, semiconductors, circuit protection, connectors, electromechanical, converters and adapters, among others.
WWD ELECTRONICS is specialized in distribution, obsolete components management, scheduled batches, excess inventory control and sale.
With our suppliers network, manufacturers, and alliances on all continents, with offices in USA, Brazil and China we have access to all manufacturers of existing electronic components.
INTERCONNECTORS / ELECTROMECHANICAL

Connectors
Terminals
Terminal Blocks

Sockets and Cables
Relays
Controllers

Motors & Drives
Coolers & Heat Sinks
OPTOELECTRONICS

LCD Displays
LED
Power LED
Optical Components
Photo-Sensors
PASSIVE

Resistors
Signal Transformer
Potentiometers
Inductors

Trimmers
Capacitors
Crystals & Oscillators
Coils

Shocks
Ferrites
Filters
Microphones
POWER PRODUCTS/ DEVICES

Batteries & Holders
Power Transformers
DC / DC Converters
Power Cord
AC Adapters
Power Filters
PRODUCTION SUPPLIES, TOOLS, INSTRUMENTATION

Test Equipment
Test Connectors
Programmers
Controllers
General Tools
SEMICONDUCTORS

Microcontrollers
Microprocessors
Memory
Logical
Analog
Regulators
Diodes
Transistors
MOSFETs
Thyristors
OPTOELECTRONICS - CUSTOMER DESIGN
Our engineering offers the possibility to customize displays, allowing the customer to have their own product, different from the regular market.
-

Customized Display integrated into the product.

-

Design perfection and design optimization.

-

Reduction of time and assembly costs.

-

Affordable Tooling.

-

Minimum production batches with low quantities.


LED Displays
Project carried out according to customer needs using LED´s, Displays, LED arrays or custom LED modules.

LCD Displays (Liquid Crystal Display)
With COG (Chip on Glass) technology, COF (Chip on Film), COB (Chip on Board) we offer low cost solutions, reduced energy consumption and mechanical dimensions.

Working together with the customer, an accurate Bill of Materials (BOM), our engineers offer an alternative part search service to reduce costs and deadlines. Through reputable laboratories in the US, We offer functional testing services and decapsulation of electronic components, thus ensuring the quality and functionality of components.