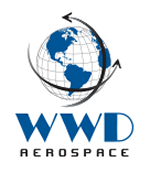 WWD AEROSPACE is a worldwide supplier of parts and components for aviation and aerospace applications.
Strategically located a few minutes from Miami International Airport (MIA) and Fort Lauderdale International Airport (FLL).
We can deliver parts and components for aircraft maintenance (MRO) and fixed-base operators (FBO), with quick turnaround time.
WWD AEROSPACE has global presence providing solutions to the aviation industry in any location covered by international agreements. Working only with approved suppliers and advanced management systems, WWD Aerospace provides high quality services, reliability and competitive prices.
Our processes are executed according to the highest standards of excellence and are subjected to periodic audits. As part of our commitment to excellence, WWD USA Group, LLC is ISO 9001:2008 certified and AS 9120:2009 certified, as well as a proud member of the Aviation Suppliers Association (ASA) since 2012.
All our products and parts are FAA / EASA / ANAC certified.
Learn more
We can assist you with procurement of aircraft parts and rotables
We offer AOG and Hard to Find parts procurement, with friendly service and reasonable rates
MRO assistance, core and warranty processing
Propulsion, control equipments, materials and structural components
Avionics, electronics and associated equipments
CHEMICAL WITH TRACEABILITY CERTICATES

Additives
Adhesives
Carbon Fiber
Degreasers

Infusion consumables
Lubricants
Oils
Paints

Pickle Liquors
Primers
Repair Materials
Resin
AIRFRAME PARTS

Air Inlets
Bearings
Boots and Covers
Cable Assemblies
Canopies
Clamps
Control Locks
Control Yokes/Grips
Covers
Cowl Seals

Cowling
Door Parts
Ducting
Fiberglass Components
Flap Actuators & Parts
Glareshields
Grommets & Edging
Hose Fittings
Insulation
Latches

Pitot Tubes/Accessories
Pulleys and Springs
Rubber Channel
Saddles
Seals & Sealants
Seat Belts & Harnesses
Seats & Accessories
Spinners
Windshields
Wing Parts
AVIONICS

Radios / Transceivers
Transponders
Audio Panels / Intercom
Headsets
Acessories
Antennas

HSI
EFIS
GPS
Entertainment Systems
Altimeters
Airspeed Indicators

Collision Avoidance Systems
Compasse
Camera Systems
Auto Pilots
Warning Systems
Weather Systems
ELECTRICAL

Alternators / Generators
Batteries
Cables and Connectors
Circuit Breakers
Control Units
Dimming Systems
Flashlights
Ignition Switches

Instrument Lighting
Interior Lighting
Lamps, Replacement
Landing Lights
LED Lighting
Pin & Socket Tools
Position Lights
Power Converters

Relays
Servo Systems
Static Dischargers
Strobes
Switches
Tail Lights
Trim Systems
Wing Lights
ENGINE PARTS

Air Filters
Bushings
Carb Heat Boxes
Carburetors & Parts
Clamps
Cylinders
Ducting

Engine Parts / Accessories
Exhaust Components
Fuel Systems
Gaskets
Heaters
Hose
Ignition Systems

Magnetos & Parts
Oil Filters
O-Rings
O-Rings
Propellers
Seals
Spark Plugs
LANDING GEAR

Axles and Axle Nuts
Brake Components
Brake Discs
Brake Linings
Brakes
Jacks

Landing Gear
Leaf Springs
Master Brake Cylinders
Nose Gear Parts
Nose Wheels
Rudder Parts

Shimmy Dampers
Shock Cords / Rings
Tailwheels
Tires and Tubes
Wheel Accessories
Wheel and Brake Kits